Neuroflexyn Review
Neuroflexyn is a unique nootropic supplement designed to reverse age-related memory loss. According to the manufacturer, Neuroflexyn has been clinically shown to increase concentration by 312% and boost your IQ by 77%.
Those are some impressive results. Neuroflexyn actually calls itself "Viagra for the brain" and claims to use 100% all natural ingredients to boost cognitive performance. Neuroflexyn also offers a "risk free" trial and discounted starter package.
For all of these reasons, Neuroflexyn is attracting a fair bit of attention on the internet these days. How does Neuroflexyn stack up with other nootropics? Does it actually work as promised? Find out in our Neuroflexyn review.
Click Here To Purchase Neuroflexyn On Amazon Today!
How Does Neuroflexyn Work?
Neuroflexyn is one of the most mysterious nootropic supplements on the market today. Its website uses broad marketing terms like "100% All Natural Optimal Mental Performance" and "Enhanced Concentration and Focus". However, the manufacturer doesn't really explain how Neuroflexyn achieves those benefits.
That's why I did a little more research beyond the website. Here's what I learned about the mechanisms behind Neuroflexyn:
— Neuroflexyn uses a mixture of five different ingredients, including natural ingredients and synthetic formulas. Those ingredients are DHA, Huperzine-A, Vinpocetine, Bacopin, and Picamilon.
— The primary active ingredient in Neuroflexyn is called Phosphatidylcholine. Phosphatidylcholine hasn't been extensively studied at this point in time. However, early studies on the chemical compound have been promising.
— According to the manufacturer of Neuroflexyn, Princeton University did a study on Phosphatidylcholine saying that it can "stimulate growth of new brain cells and neuro connections." Despite my best research efforts, I couldn't find this study listed anywhere, which means it was either redacted or was never published.
— Another source of information for Neuroflexyn is this Forbes.com article, which cites the mysterious Princeton study listed above and describes the other benefits of Phosphatidylcholine.
— There is one concrete study on Phosphatidylcholine available online. It was performed by the University of Colorado and it showed that pregnant women who took this compound were less likely to have schizophrenic babies.
Despite the lack of research, we know that Phosphatidylcholine acts as a precursor for acetylcholine. If you've spent much time reading nootropic reviews, then you already know that acetylcholine is the brain's primary neurotransmitter for memory formation.
Basically, raising acetylcholine levels in the brain has been clinically proven to improve memory, recollection, and learning ability. Neuroflexyn works by raising acetylcholine levels in the brain using a mix of natural ingredients and synthetic chemicals.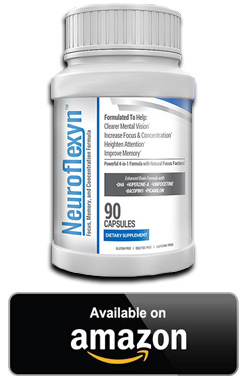 Benefits of Neuroflexyn
Neuroflexyn has powerful effects on the brain. Here are some of the cognitive benefits you can expect when taking Neuroflexyn:
— Better overall brain functionality and cognition
— Improved memory, recall, and learning ability
— Better mood
— Reduced age-related cognitive decline, including cell loss and neurotransmitter production
— More efficient neurotransmitter receptors in the brain for reduced "mental fog"
Buying Neuroflexyn Online
You can't buy Neuroflexyn in any store. It's exclusively available online through the official Neuroflexyn website. That's not a bad thing, since it means the official Neuroflexyn website is also the cheapest source for Neuroflexyn and you don't have to worry about low-quality manufacturers using cheap formulas.
If you order Neuroflexyn online, here's how the pricing breaks down:
— 5 Bottle "Monster" Plan: $29.97 per bottle plus you get an additional two free bottles for a total of $149.85
— Tier Two Package: $33.30 per bottle plus you get one free bottle for a total of $99.90.
— Sampler Package: $49.95 per bottle for a total of $49.95.
Obviously, the more you spend, the more you save per bottle. However, I should note that Neuroflexyn comes with an autoship program. When you order your first bottle of Neuroflexyn, you're automatically enrolled into a Neuroflexyn subscription.
You'll get a package of Neuroflexyn sent to your home every month. Your credit card will be charged until you cancel. This autoship program is great if you like Neuroflexyn, but if you tried one bottle and hated it, then you may be in for a nasty surprise on your credit card.
That being said, Neuroflexyn does offer free shipping on all orders and a money back guarantee. If you decide to cancel, you can call a number to immediately remove yourself from the subscription list.
Should You Use Neuroflexyn?
Neuroflexyn is popular among men and women of all ages. However, it's specifically targeted towards men and women above the age of 30 who are experiencing age-related memory decline.
Over the age of 30, our brain's natural production of acetylcholine starts to decrease. Neuroflexyn aims to boost that production and make sure you stay smart, healthy, and productive for years into the future.
Click Here To Purchase Neuroflexyn On Amazon Today!