Alpha Brain Review
Alpha Brain is one of the most well known nootropic supplements produced by Onnit Labs. Made famous by Joe Rogan, Alpha Brain is one of the top nootropics on the market, although there has been some controversy and debate about whether or not Alpha Brain is the real deal or not. Let's take a closer look into Alpha Brain:
What is Alpha Brain and How Does it Work?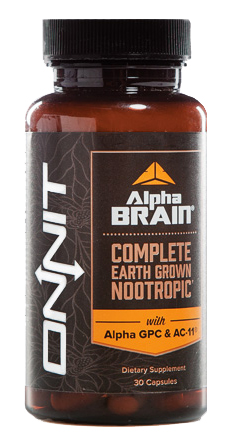 Alpha Brain is a nootropic supplement, which means it is intended to boost brain function and performance. Alpha Brain achieves this by boosting blood flow to the brain, increasing neurological antioxidants, and boosting brain neurotransmitters.
If that sounds confusing, then perhaps this will clear things up. Essentially, Alpha Brain provides you body with a plethora of natural vitamins and herbal extracts that help the brain increase its' performance without the need for drugs or artificial chemicals. In fact, some of the ingredients in Alpha Brain include:
Vitamin B6: – Vitamin B6 Is An Essential Nutrient Needed For Optimal Brain Health.
Ac-11: Studies Show That Ac-11 Possesses Powerful Antioxidant Properties.
Tyrosine: An Essential Amino Acid For The Production Of Dopamine.
Huperzine A: Slows Down The Breakdown Of Choline To Enhance Brain Functions.
Alpha GPC: Provides The Brain With Acetylcholine, Which Increases Various Brain Functions.
Other ingredients in Alpha Brain include: oat straw, bacopa, L-theanine, vinpocetine, and pterostilbene. All of these ingredients work together to boost brain function without causing any serious effects on your health.
Benefits of Alpha Brain
According to the makers of Alpha Brain, there are many benefits to taking Alpha Brain. Some of these benefits include:
Improved Memory Recall
Increased Focus And Concentration
Improved Sleep/lucid Dreaming
Overall Better Mental Clarity
Healthier, More Efficient Brain
Plus Much More!
Side Effects of Alpha Brain
The main controversy surrounding Alpha Brain is whether or not there are any side effects to taking Alpha Brain. On the surface, all of the ingredients of Alpha Brain seem safe and most of them have a GRAS status (generally recognized as safe). However, some users have complained of side effects.
Some individuals who are dominant in acetylcholine may experience minor to moderate headaches or pain around the jaw area. This is primarily because of the excess neurotransmitter.
Other users have reported that lucid dreaming becomes so vivid that it becomes uncomfortable. This is of course on a case-by-base basis but there are several people who have stopped taking Alpha Brain because of lucid dreaming.
Overall, Alpha Brain appears to be very safe and for most people well worth trying. Many of the ingredients have clinical support to back up their claims and from what we can tell Alpha Brain seems to be safe for long-term use as well.
Onnit Alpha Brain Pilot Study
Unlike any other nootropic on the market, Alpha Brain was the subject of a pilot study to test its' effectiveness. In the study, 17 individuals were tested in several neuropsychological tests then given Alpha Brain or a placebo for six weeks. Participants were then tested again to find any differences.
The Alpha Brain group significantly outperformed the placebo group in several tests. Almost everyone saw a slight improvement although Alpha Brain significantly improved the performance in almost every single test.
This is the only study currently published but several other studies are currently in progress. Hopefully we will know more about the incredible benefits of Alpha Brain very soon.
Buying Alpha Brain By Onnit
Alpha Brain is one of the more expensive nootropics on the market but it seems to be well worth it. For a one month supply it will cost around $60 if you take two capsules per day. It may sound expensive but Onnit offers a money back guarantee in the event you are extremely dissatisfied with the product.
If you decide to buy Alpha Brain you can do so online directly from Onnit or through several partner websites that offer Alpha Brain. If you're looking for a real nootropic with proven results, then we recommend you at least give Alpha Brain a shot. Thousands of users trust Alpha Brain and it's likely you'll feel the same results as so many others had.