Geniux Brain Pill Review
Geniux is a brand new recently launched nootropic supplement that claims to be "the ultimate smart pill." That seems to be a phrase we've seen a lot of and most nootropics claim to provide the same benefits as Geniux.
About Geniux Nootropic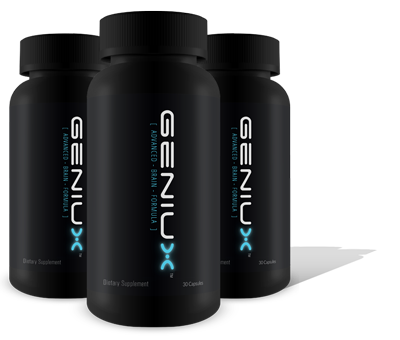 Since Geniux is fairly new, we do not know much about this new nootropic supplement. Is Geniux as good as it says and is it even worth trying?
Let's find out:
Ingredients in Geniux
The first red flag we saw with Geniux was that they do not list their ingredients anywhere on their site. They claim to have an "advanced cognitive blend" and "proven ingredients", but unfortunately we were unable to find them anywhere.
This is of course a huge red flag and it casts a shroud of doubt over whether or not Geniux is even worth buying to begin with. Any supplement manufacturer that refuses to at least list their ingredients is sketchy in our opinion.
Benefits of Geniux
Geniux makes several claims about their product, but does little to back up these claims. In fact, we haven't found any evidence to support any one of their claims. Nonetheless, here are the benefits Geniux claims about their product:
— Improved Focus
— Better Mood
— Better Mental Clarity
— Improved Short/Long-Term Memory
— Improved Critical Thinking
— Enhanced Overall Cognitive Function
They also claim that their supplement is "fast acting" and the best overall nootropic supplement. They compare their product to other popular nootropics like Neuroflexyn and EVO, but they do not back up their claims.
Side Effects of Geniux
Unfortunately, since we do not know the ingredients in Geniux, we really cannot tell you whether or not there are side effects in Geniux. This is another problem we have with Geniux and we would much rather if they would disclose their ingredients, simply so we could better understand whether Geniux is legit or not.
We have found a few Geniux testimonials that appear to be legit and they have not complained about side effects. However, these are only a few testimonials so we cannot fully know whether or not there may be some side effects.
Geniux Pricing
In the event you decide to gamble and end up buying Geniux, then you have several different packages you can choose based on how much Geniux you desire. Here are the packages and pricing details for Geniux:
— Sampler Package: $39 for 1 Bottle
— Tier Two Package: $90 for 3 Bottles ($30/Bottle)
— Monster Plan: $125 for 5 Bottles ($25/Bottle)
— SuperBoost Package: $140 for 7 Bottles ($20/Bottle)
Is Geniux Worth Buying?
In case you haven't already figured out our opinions on Geniux, then we seriously recommend you avoid Geniux and look into better nootropics.
Geniux does not disclose their ingredients and makes several bold claims without giving us an ounce of evidence to support their claims. These are too red flags that are simply too big to get over.
If you choose to buy Geniux, then know you're taking a huge gamble. We'd much rather see you stick to other nootropics that actually have real scientific backing and disclosure.