Intellux Review
Intellux is a nootropic smart drug that claims to work as a "genius pill" to rejuvenate your brain power. Find out if Intellux actually works today in our review.
What is Intellux?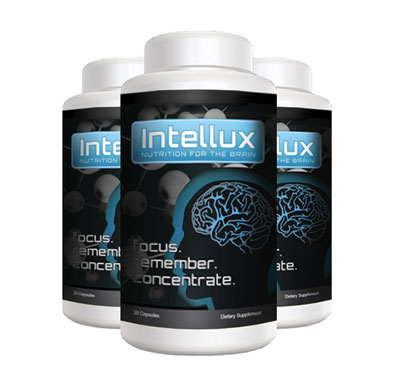 Intellux is a nootropic supplement that promises to boost your focus, memory, and concentration. To achieve these three benefits, the supplement uses natural ingredients.
We never actually find out what those "natural ingredients" are. The manufacturer has chosen not to reveal either the ingredients or their dosages.
What the manufacturer has revealed, however, is a variety of promises about the benefits of the supplement. Some of those promises include:
— Improved Memory
— Increased Cognitive Energy Levels
— Powerful Focus And Motivation
How Does Intellux Work?
As we just mentioned, the creators of Intellux haven't revealed the exact ingredients in the supplement.
That means we don't really know how Intellux works (or if it works at all).
The only bit of information the manufacturer has given us about Intellux is that it contains a "100% pure phosphatidylserine complex".
Phosphatidylserine is a popular nootropic ingredient that has been shown in some studies to boost memory, cognition, and even athletic performance. You can learn more at the chemical compound's Wikipedia article here, which provides links to numerous scientific studies on phosphatidylserine.
Nevertheless, phosphatidylserine's benefits aren't anywhere near conclusive. In 2002, the FDA issued the following statement on phosphatidylserine:
"…based on its evaluation of the totality of the publicly available scientific evidence, the agency concludes that there is not significant scientific agreement among qualified experts that a relationship exists between phosphatidylserine and reduced risk of dementia or cognitive dysfunction…Of the 10 intervention studies that formed the basis of FDA's evaluation, all were seriously flawed or limited in their reliability in one or more ways…most of the evidence does not support a relationship between phosphatidylserine and reduced risk of dementia or cognitive dysfunction, and that the evidence that does support such a relationship is very limited and preliminary".
Ultimately, the FDA was not impressed by the scientific evidence that supported the use of phosphatidylserine.
That hasn't stopped Intellux from including the chemical in its product. That may be a bad thing – or it may not. There just isn't enough independent scientific data out there to make a conclusive statement either way.
How to Buy Intellux
You can only purchase Intellux from the manufacturer's official website at TryIntellux.com. At that website, you'll see the following price points and package discounts:
— 1 Bottle: $49.85
— 3 Bottles: $113.82
— 5 Bottles: $149.95
All purchases come with free shipping to US addresses.
You also get a 30 day money back guarantee with every purchase. If you're unhappy with your purchase, you can return the bottles (even if they're empty) to the address listed below to receive a full refund of your purchase price.
You can pay for Intellux using VISA, MasterCard, or American Express.
Who Makes Intellux?
Intellux claims to be manufactured in an FDA-registered, GMP-certified "laboratory environment". We're led to assume that lab is based in the United States.
The lab also reportedly conducts "research driven human studies" to confirm the safety and effectiveness of the supplement.
The manufacturer lists its address as follows:
Intellux
P.O. Box 25380
Santa Ana CA 92799
You can contact the company by phone at (888) 908-1193 or by email at cs@intelluxsupplements.com
If you Google the company's address, you'll discover that a number of other shady online companies use that same post office box. Other companies that list that address include Avonlea Beauty, Try Garcinia Diet, Vitier Beauty, and Skin Serum Pro.
The post office box is so common in the online health and beauty supplement world that it even has its own page on ComplaintsBoard.com, where one reviewer called it a post office box for "crooks". That reviewer also claimed it was impossible to get a refund for a product.
Conclusion: Who Should Use Intellux?
Intellux is one of those mysterious nootropics that lists very little information about its ingredients, purity, or methods of action online.
We're led to assume that we're putting 100% safe and natural ingredients into our body – like phosphatidylserine. But since the manufacturer doesn't list its ingredients or dosages, we really have no idea what's inside Intellux.
To make matters worse, the supplement is ridiculously expensive compared to other major nootropics on the market.
For all of these reasons, and based on our extensive knowledge of nootropic supplements, we suggest that your money is better spent elsewhere.