CogniQ Review
CogniQ is a nootropic supplement that claims to be the ultimate smart pill for your brain. Find out if CogniQ is the real deal today in our CogniQ review.
What is CogniQ?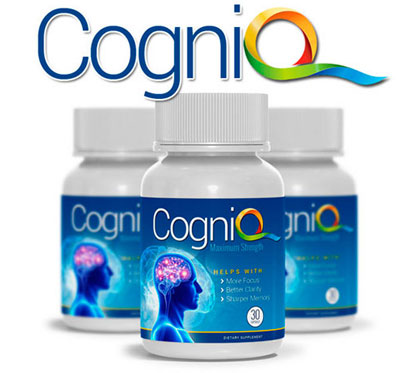 CogniQ is a nootropic supplement that you take once daily to purportedly increase cognitive functionality. The creators of CogniQ claim that the supplement contains natural ingredients that will boost your focus, memory, concentration, and cognitive ability.
The supplement is exclusively sold at CogniQXL.com, where the sales page prominently advertises the fact that the supplement was featured in The New York Times, NBC, Chicago Tribune, USA Today, and other major publications. I couldn't find any evidence to support those claims on any of the respective media outlets.
Nevertheless, CogniQ promises a wide range of easy-to-appreciate benefits, including:
— Increase Memory Recall
— Improve Brain Reaction Times
— Boost Your Mood
— "Better Overall Health"
— Better Focus, Memory, And Brain Power
Best of all, CogniQ promises to achieve all of these benefits using natural ingredients.
The supplement is targeted towards those who are 30 years of age and older – or for anyone who feels they need a cognitive boost. The creator of CogniQ claims that our brain power starts to decline as early as age 30.
If you're around age 30 and have recently started to notice declining brain power, then CogniQ promises to be the "#1 natural cognitive enhancer" guaranteed to increase your cognitive ability.
How Does CogniQ Work?
CogniQ works in mysterious ways. The manufacturer tells you to take one pill every morning. If you do that, then the effects will magically go to work.
That pill contains "100% natural ingredients". We know that because the manufacturer tells us the pill contains all natural ingredients.
What the manufacturer doesn't tell us, unfortunately, is what those ingredients actually are. The supplement's official website never explains the ingredients, their dosages, or any other information about the supplement.
Instead, the manufacturer just says phrases like this and expects you to believe that's how CogniQ works:
"Take 1 pill every morning. It's completely natural and 100% safe"
"The cognitive blend in each capsule goes to work immediately supplying your brain with the ingredients needed to enhance your focus, memory and energy"
If you like to know about everything you're putting into your body, then you'll want to avoid CogniQ – because we really have no idea what's in this supplement.
How to Buy CogniQ
Unsurprisingly, CogniQ is only available online from the supplement manufacturer's official website, CogniQXL.com. That site features an online ordering form that lists the following prices and package deals:
— 1 Bottle: $47.95
— 3 Bottles: $123.82
— 5 Bottles: $159.95
Free shipping is available on all orders, although you can pay an extra $6.99 for expedited shipping.
The manufacturer claims you can return CogniQ for a full refund with their 60 Day Money Back Guarantee. Here's how they explain their refund policy:
"If for any reason, you're not completely satisfied, just return the bottle(s) within 60 days of receipt for a refund of the purchase price (less S&H)-even if the bottle(s) are empty."
If you read the fine print, then you'll learn that you'll have to pay a $10 restocking fee for every item you return.
Who Makes CogniQ?
What kind of company releases a nootropic supplement onto the internet without listing its ingredients, manufacturing location, or any other information about the product's origins?

That company is listed as "CogniQ LLC". The company is based at the following address:

CogniQ LLC.
7300 S. Alton Way #5B
Centennial, CO 8012


You can contact the company by phone at 1-855-558-1484 or by email at customerservice@cogniqxl.com

CogniQ LLC isn't the only company listed at 7300 S. Alton Way #5B. Another company named EyeFive, Inc. is also based at that address. According to Manta.com, EyeFive, Inc. "offers a wide variety of herbal and dietary supplements with high profit margins and great demand."

If you connect the dots, then you can probably assume that EyeFive, Inc. manufactures CogniQ. The company does not list any details of its manufacturing facilities or manufacturing conditions, nor does it claim that the supplement is made in the United States.
Conclusion: Who Should Use CogniQ?
CogniQ is an expensive nootropic supplement that provides no information to support its price tag or its claims. The manufacturer has not listed any ingredients, nor has it explained where the supplement is made. The supplement has also not been tested by the FDA or any independent scientific organizations.
For all of these reasons, it's best to avoid CogniQ at this point – at least until manufacturer EyeFive, Inc. takes a more honest approach to selling supplements online.