Nerium EHT Review
Nerium EHT is a brand new "age-defying" supplement that is used to promote optimal brain health. Nerium EHT is manufactured and sold by Nerium International, a network marketing company that primarily sells anti-aging skin products.

About Nerium International
Nerium International is based out of Addison, Texas. Prior to the announcement of EHT, Nerium mostly focused on selling skin creams like Nerium AD and Optimera.
Nerium describes itself as a "relationship marketing company" when in reality, it's a network marketing company. Nerium was launched in August 2011, and the company claims that it has earned "several industry accolades" and "millions of consumer fans" since it was launched. We've found little evidence to back up these claims, although Nerium has experienced a tremendous amount of growth.
Dr. Jeffry Stock, a researcher at Princeton University, is the person responsible for discovering the EHT molecule. According to Princeton's website, Dr. Stock is a professor of molecular biology and one of the leading experts in the world in signal transduction and cellular regulation.
Nerium Opportunity
Nerium International has used network marketing tactics to sell its' products around the world since it was first launched. Currently, Nerium is undergoing a complete "digital makeover" of its' program and commission structure.
We don't have all the details yet, but it appears like Nerium is going to make it more appealing for prospective distributors to join the program and start selling Nerium products. Once we learn more about exactly what Nerium is offering, we'll update our post with the details. Until then, we can only wait and see what Nerium has in store for its' current and future distributors.
What is Nerium EHT?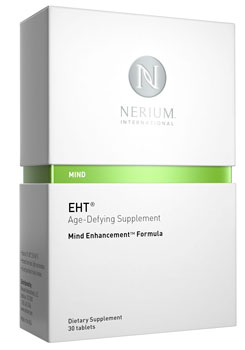 Nerum considers Nerium EHT an anti-aging brain supplement. Supposedly, Dr. Jeffry Stock has spent 20 years of research on this technology. The supplement is set to launch May 15th, 2015 for brand promoters, and it will be released to the generic public on August 1st, 2015.
Nerium EHT is a dietary supplement consisted of several different brain protecting ingredients.
Here is a full list of ingredients in Nerium EHT:
— Vitamin B6, B12, D3, and Folic Acid
— Magnesium Citrate
— Selenium
— Huperzine A
— Lipoic Acid
— Di-calcium Phosphate
— EHT
— Silica
— Stearic Acid
How Exactly Does Nerium EHT Work?
We've been trying to figure out exactly how the EHT molecule works, with little success. According to Nerium, here is what they have to say about Nerium EHT:
"The aging process can take a toll on brain function. Over time, vital neuronal connections weaken, which can cause memory loss, slower reaction times, and diminished alertness. (The) EHT Age-Defying Supplement helps protect against mental decline with (its') groundbreaking formula."
It's not much to go off of, but it appears like Nerium is essentially saying that EHT can strengthen and protect neurons, which would prevent the weakening of neuronal connections. In theory, this would prevent the decline of cognitive functions such as memory loss and reaction times.
Is Nerium EHT Safe?
After looking at the ingredients listed in EHT, we feel like there should not be any adverse health effects while taking Nerium EHT. We've found many of the ingredients are commonly used in other brain supplements, and the only unknown is whether EHT itself is safe.
Based on the information we have, we feel that Nerium EHT is safe and should not have any side effects. Nerium typically puts special care into formulating their products to be safe, and there's no reason to think Nerium EHT will be any different.
Does Nerium EHT Really Work?
The biggest question surrounding Nerium EHT is whether or not it works. The issue is that Nerium EHT only has a small sample study of 58 people, which is a good start in terms of providing real, concrete evidence, but it's' not enough.
We certainly won't refute the hard work and dedication to Dr. Jeffry Stock's research, but it's hard to say whether or not EHT can help people. Without having more clinical data to support Dr. Stock's claims.
Final Thoughts On Nerium EHT
Nerium EHT is only in its' pre-launch phase so its' too early to tell whether or not it is a product worth buying or not. However, based on the promises made by Nerium, EHT could be the first product of its' kind to fight back against the aging of the brain.
Nerium has had problems in the past with how their products are promoted by some brand promoters and the company was even sued. We're hoping that Nerium isn't overhyping EHT and that it can indeed protect the brain from age-related cognitive decline.
However, until it is officially launched, all we can do is wait and see. For now, be cautious about using Nerium EHT. Once the product is launched, we'll know whether or not Nerium EHT is the real deal or not.
For now, most of our readers have been choosing to stay clear of the MLM world and go after a popular Nootropic supplement called Addium. You can see our Addium Review by clicking on that link.